On behalf of our incredible team at data.world, I'm very proud to announce our $26m expansion funding round. This is our fourth and largest round of funding to date, and like the others it was significantly oversubscribed. data.world is my sixth business as an entrepreneur, following the successes of Bazaarvoice and Coremetrics. The pandemic has certainly made it a very interesting time to raise money. I'll get to that in a moment and share some of the lessons learned along the way.
Playing Bigger
First, I'd like to share what this funding means for our customers and our global community. We are defining the rules of an entirely new category of software. I recently discussed this with Christopher Lochhead, the co-author of Play Bigger, on his Legends and Losers podcast after Mike Maples, Jr. of Floodgate (one our terrific investors) introduced us.
Our customers repeatedly tell us how much they appreciate our enterprise data catalog's consumer-grade interface (built for everyone, not just the data gurus), our knowledge-graph foundation (now with 16 patents), and our cloud-native Software as a Service delivery and continuous innovation (over 1,000 releases in just the past 12 months). No other vendor in our space can compete on these dynamics, and it allows us to quickly turn customers into data heroes.
Michael Murray, the President of Wunderman Thompson Data, says the company can now do in a half a day what they couldn't do in six months. One of the largest consulting firms in the world tells us they can now find data 8-10x faster, creating a massive lift in their efficiency and effectiveness globally as their customers navigate the pandemic. These results are what matter most to our customers and data.world employees. Investors also take note of these success stories when you are raising money and creating a new category, especially during a pandemic.
Developing Data Cultures
Data catalogs and, in fact, data literacy are more important than ever during the COVID-19 pandemic. I wrote a data.world blog post five months ago about the importance of data democratization during a time of uncertainty, and we've certainly seen this trend play out in our customer base. The number of enterprise users is up more than 1,900% in 2020 year-to-date over all of 2019 as our highly accessible user interface has accelerated secular trends in remote work and more inclusive data cultures.
Empowering users and instilling a culture of data is critical because businesses are changing faster than at any point since the Great Recession. In too many organizations, data is treated as the providence of IT teams. While IT is incredibly important to enabling a data-centric culture, it is important to remember that data is the knowledge within your company. It forms the giant global brain of your collective team. Data shapes the knowledge about your customers, your products, your employees, your channels, your supply chain, and so much more. Our goal is to light up that brain and get all of the neurons and synapses firing.
An enterprise data catalog unifies data silos across data lakes and warehouses, spreadsheets, SaaS solutions such as Salesforce.com, business intelligence solutions such as Tableau and Microsoft Power BI, and more (we've learned that data silos are everywhere). But as critical as it is to bring disparate datasets and data sources together, you must equally resolve to eliminate "people silos." Transforming into a data-driven culture means finally getting the ROI from your data infrastructure and analytics investments. From a business perspective, data-driven cultures allow you to better identify new opportunities and optimize costs and investments along the way. A data-driven culture leads to a pattern of winning with a more profitable, higher growth business, no matter how difficult your operating environment is.
Born in the Cloud
You can't just snap your fingers and change the way your company manages data. There are fundamental architectural shifts that must happen as well. The first-generation companies in our industry architected their solutions for on-premises, highly governed environments. They focused very specifically on IT-oriented user experiences. Their solutions took six months to years to implement. They released 3-4 updates per year and struggled to achieve any meaningful adoption outside of their customer's IT/data teams.
At data.world, we bet that the world would move data much faster to the cloud than any of these legacy companies anticipated. Snowflake's upcoming IPO, now backed by Warren Buffett (an incredibly historical move for Berkshire Hathaway), is Exhibit A towards that trend.
We were built on day one to be a cloud-native SaaS solution. We put the best of what we learned from our global community of public data collaborators -- the largest of its kind in the world -- into our enterprise data catalog. We ramped up our pace of innovation-based largely on customer feedback. We partnered with Snowflake and AWS and are the only data catalog natively integrated in Snowflake Partner Connect - a connection born and optimized natively in the cloud.
We focused our user interface on the entire organization, believing that data work should not be a passive experience. We believe everyone should be data literate and have something to contribute to a company's collective body of knowledge. We redefined data governance as an agile process. And all of this work led to us being the only enterprise data catalog to receive a 100% would recommend rating on Gartner's Peer Insights from our customers over the past 12 months.
This new round of funding allows us to accelerate into all of these trends, from data democratization to a cloud-forward approach, all within the context of more remote work than ever before.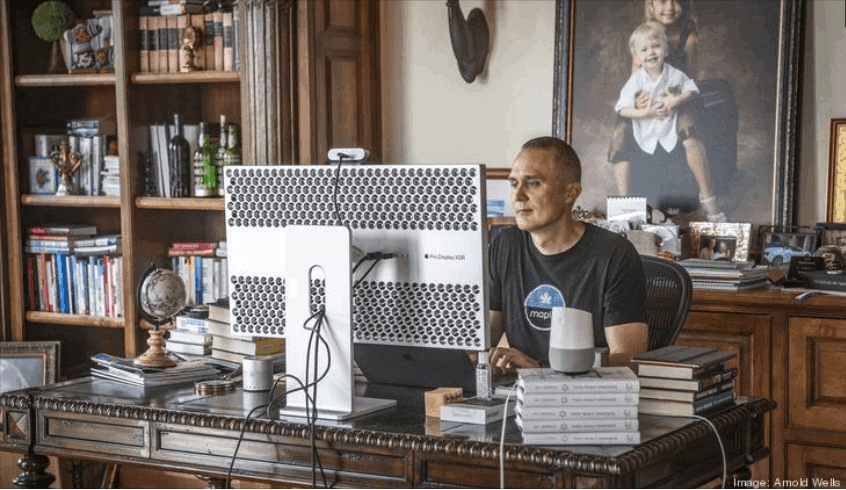 Fundraising during a pandemic
None of this would be possible without our amazing team and our investors. I knew I was in for a potentially huge fundraising challenge when SXSW was canceled on March 6. As an Austin native, that was an ominous red light. Our city had just written off around $340-400 million of economic impact in a single move. It was one of the hardest decisions I've seen our Mayor, Steve Adler, make.
I was with one of our investors, Josh Baer, when he was making the decision about Capital Factory pulling out of SXSW to prioritize everyone's safety at the beginning of this pandemic. At the time, we had just held our first close of around $8m of this round, which initially started as a $10m term-sheet. I remember telling my wife of 24 years, Debra, "I have no idea right now how this is going to affect us." Her response, "I think you'll do just fine." She's been with me since the beginning of my entrepreneurial career, navigating Coremetrics during the dot-com bust and 9/11 and Bazaarvoice during the Great Recession. Entrepreneurship is never easy, press releases aside.
In making this announcement today, it is kind of hard to believe that almost 70% of our round was raised after the SXSW cancellation. I didn't travel for any of the fundraise. It was all done right behind my computer. That was a first, and I had to bring a lot of energy to each and every pitch.
I was fueled by the growth in our community and customer base, and a lot of kombucha. And our culture has actually strengthened during this time. This year we were named one of the top three companies to work for in Austin (we're still actively hiring). In this tough environment, we saw new enterprise bookings in the first half of the current fiscal year grow more than 100% year over year. Our first quarter, which ran from February to April, was an emotional one for me, for our company, and for our families. It actually moved me to tears. This Austin Business Journal article offers more detail about us beating our first quarter goals, against all odds. I've experienced a lot of challenges as an entrepreneur since the age of 24 (I'm 48 now), but this pandemic is truly unique.
New Board and Investors
We're also thrilled to welcome Scott Booth, chairman of Tech Pioneers Fund (our lead investor, which leverages the World Economic Forum network) and Sally Jenkins join our Board of Directors. Scott is a legendary investor, including being one of the first in Alibaba and Compass. Sally is the CMO of Elastic and former CMO of Informatica and has already made a huge impact at data.world.
Scott and Sally join my co-founder Matt Laessig, Jason Pressman, managing director at Shasta Ventures, and me on our Board of Directors. Jason has been a terrific Board member from the beginning. We go way back to the beginning of Coremetrics, when Jason was vice president of Strategy and Operations at Walmart.com, one of Coremetrics' first customers. He and I worked closely to innovate there, pioneering the new category of Web analytics, and it has been a real thrill to work alongside him these past five years in my most ambitious and exciting business to date.
And to have Breyer Capital, Prologis Ventures, and Alumni Ventures Group as new investors is very validating. Jim Breyer is a legendary Silicon Valley venture capitalist that recently opened up Breyer Capital in Austin, only his second city to focus on in the US outside of their Palo Alto office, which serves the Silicon Valley area. This move bodes well for the future of Austin and data.world. Jim was the original investor force behind Facebook and so many other terrific companies, especially in the arena of data and analytics. Breyer Capital was one of the largest checks in this round.
We also have an incredible list of angel investors. Joining Arthur Patterson (co-founder of Accel Partners), Lincoln Brown (legendary entrepreneur, including Zynga), and Cotter Cunningham (former CEO and Chairman of RetailMeNot), are:
Bob Burke, co-founder of AMB Property Corporation (predecessor to Prologis), IHP Capital Partners, and Metropolitan Real Estate Equity Management
Leon Chen, co-founder of Tiff's Treats
Jason Dorsey, the famous generational keynote speaker
Pete Freeland, Founder and Managing Partner at Unbundled Capital and former Managing Director and Co-founder at BuildGroup
Scott Kosch of Kosch Capital Management
Adam Lyons, founder of The Zebra
Scott McCorkle, CEO and Co-founder of MetaCX, former CEO of Salesforce.com's Marketing Cloud, and former President of Technology and Strategy at ExactTarget
Dave Near, co-founder of Pisces Foods
Michael Potter, founder of Esprit Telecom, Geeks Without Frontiers, and Paradigm Ventures
… and many more
I feel like in many ways we are just getting started. I couldn't be more proud to serve alongside our data.world team and strive to make all of our customers data heroes. Global pandemic or not, data is more important than ever before. Stay tuned for more big announcements, especially as we continue to ramp up our product innovation to an even faster pace. And don't forget to register and join us on September 23rd for our first data.world summit featuring keynotes from the incredible Amy Gershkoff Bolles and DJ Patil. Let's make history together!