"Welcome to Catalog & Cocktails an honest, no-bs, non-salesy conversation about enterprise data management"
With those words, a new data podcast was born. Juan and Tim created Catalog & Cocktails in the midst of a global pandemic. With everything locked down and in-person events and gatherings all but gone, we wanted to stay connected. And much like the rest of the world, we turned to Zoom to make that happen.
Thus, our virtual happy hour and hangout came to be. And it is a happy hour in every sense of the word. We don't just record the podcast every week, we also open the floor up to our live listeners. These insightful discussions are truly a favorite part of our week, and we hope it is for you as well. And yes, while we're doing all this, we definitely have our tasty beverages in hand too.
Data is a complex and critical part of the world today, and it will be into the future. There are hundreds, if not thousands, of data vendors, disciplines, tools, strategies, roles, and concepts under this umbrella.
To 2021 and beyond
We've got big plans for Catalog & Cocktails in 2021. We already kicked off with some phenomenal guests, including: Peter Bailis (CEO of Sisu Data), Ashleigh Faith (Director of Knowledge Graph and Semantic Search, EBSCO), and John Lucker (insurance veteran and executive, former Principal at Deloitte).
That's not all! Get excited, because a slew of experts and leading thinkers in the data space will be joining us for our upcoming episodes, including:
Sign up now to be part of the live audience, and join our exclusive Q&A sessions with Tim, Juan, and our special guests.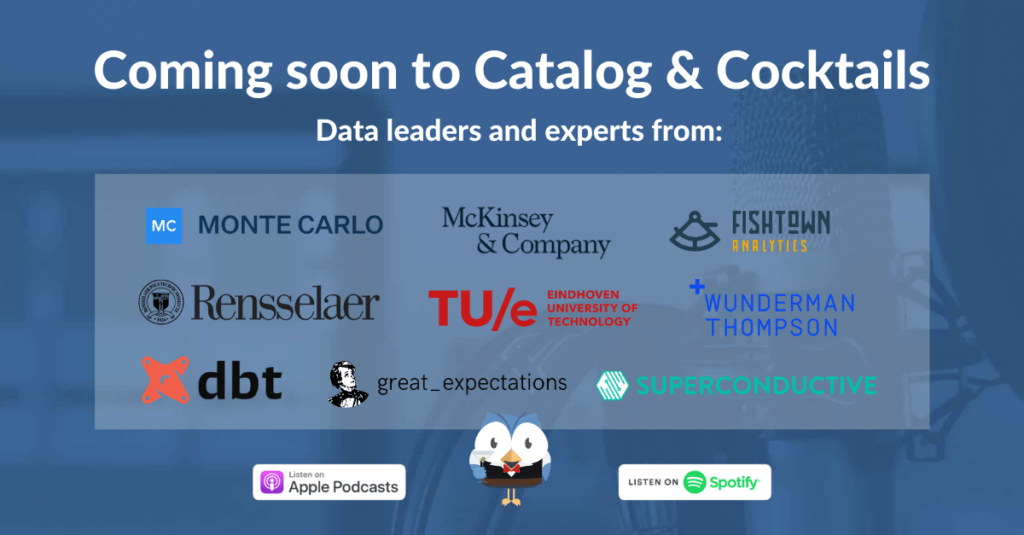 Building on the foundations of our first year
Missed some of our episodes last year, or want to revisit them? Here are just some of our favorite episodes from our first year on the air:
Is it time to hire a data product manager, with Claire Cahill, VP of Data at The Zebra: as more roles and personas are empowered to work with data, a data product manager needs to sit in the middle of the technical and business sides of the enterprise
95% say exit polls don't work. 15% say they do, with Dwayne Desaulniers, veteran election "race caller" at the Associated Press: get an inside look into how the world's largest news agency works with election data ethically, reliably, and accurately
Don't boil the ocean. Boil a fishbowl: if you've tuned in to any episode of Catalog & Cocktails, you most certainly have heard Juan and Tim say this phrase, and it's critical as you're thinking of your data strategy
You can listen to all our past episodes anytime and anywhere on your favorite podcast app and on YouTube. And if you enjoy Catalog & Cocktails, please leave us a rating and review on Apple Podcasts, and drop us an email at podcast@data.world - we love hearing from you.