UPDATE:
Official documentation is here: docs.data.world/documentation/api/
The last week has been a real whirlwind. Early in the week, our cofounder Jon Loyens was interviewed on the Partially Derivative podcast. Then on Friday, we were featured on Product Hunt. What a week!
We've had a few questions this week around APIs—what does our data catalog support today, and what are our plans for the future.
I want to give a quick update on where we are today. At data.world, we believe that a big part of what makes data open is making it available when and where you need it. To this end, we will be supporting a large variety of integrations—the only question is one of prioritization.
Java / JVM / JDBC-enabled tools
A number of data analytics and visualization tools on the market today have some level of support for JDBC. It was therefore natural for us to implement a data.world JDBC driver sooner rather than later. Our driver has full support for SQL and SPARQL. Check out the docs for more information on how to integrate.
REST-ful Query Interface
If you find yourself on the command-line and want to pull in some data, the easiest way is to hit our query endpoint. Perfect your query in the app, then bring it to the command-line to integrate with your external process.
curl 'https://query.data.world/sql/<user>/<dataset>' 
  -H 'Authorization: Bearer <api-token>'
  -H 'Accept: application/sparql-results+json'
  --data 'query=SELECT%20*%20FROM%20tablename'
There's an equivalent endpoint at for querying SPARQL:
https://query.data.world/sparql/<user>/<dataset>
I say command line, but really the only limit is your imagination. This is a REST-ful endpoint which could easily be integrated into any language.
Your personal <api-token> is in your advanced settings.
Copy URL/Code…
Python/Pandas and R have become increasingly popular environments for doing data science. In an effort to empower these users, we've created the ability to quickly pull query results directly into a local data frame. This is exposed through the "Export" option on the query tool.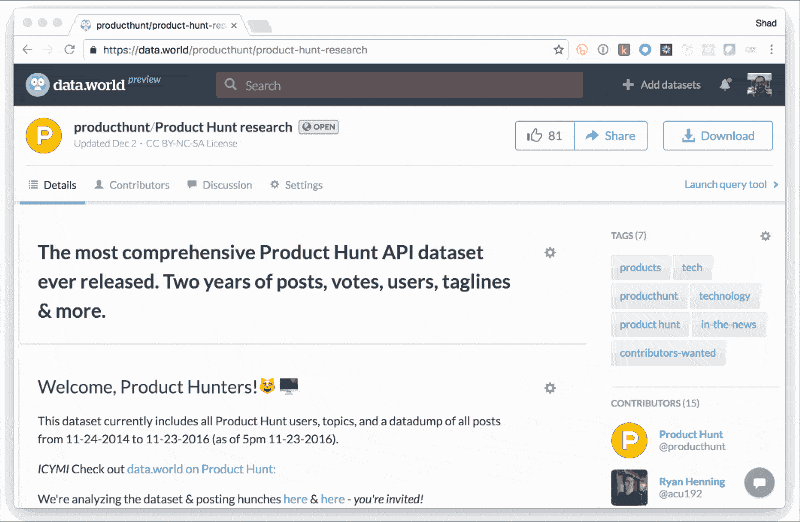 Simply paste into into your Python/Pandas or R environment and load up a data frame ready for additional processing!
import pandas
df = pandas.read_csv('https://download.data.world/sql_query_result_download/producthunt/product-hunt-research?filename=product-hunt-research-QueryResult&mimetype=text%2Fcsv&query=--%20NOTE%3A%20from%20a%20sample%20of%205000%20records%20in%20the%20full%20dataset%0ASELECT%20name%2C%20time_of_day%2C%20PostsForExploration.date%0AFROM%20PostsForExploration%20&auth=<USER-FILE-SPECIFIC-TOKEN>')
In the coming weeks, you'll also find this capability for copying files directly on the dataset (no querying necessary).
---
That's all for now, but stay tuned for more in the coming months! This is really just the start. 😁
Want to make your data projects easier/faster/better? Streamline your data teamwork with our Modern Data Project Checklist!