Data lineage provides full visibility into where data is sourced, how it's aggregated, and any transformations it undergoes along its journey, empowering data team members at every level of your business to understand and trust data pipelines.
As I explained in the blog posts "Build Trust with Data Lineage" and "Repair Broken Data Pipelines with Lineage," there are two primary types of lineage, each of which serves a unique purpose and solves a different problem set: business lineage and technical lineage.
Knowledge Graph Lineage
I've mentioned in my previous posts, only a data lineage solution powered by a knowledge graph provides insight into the relationships between key business concepts and technical lineage.
Knowledge graphs are inherently semantic. Each has an ontology, which serves to create a formal representation of the entities in the graph and explain how they're related, telling you what everything in your knowledge graph means and making it easier to understand how data is connected.
All this is essential for operationalizing your data lineage and delivering on the promise of faster, more efficient data-driven decision making.
A Common Use Case
Let's explore the last of three common use cases a data lineage solution powered by a knowledge graph can help solve today:
Technology Migration: Preserve Your Most-Important Data Assets
Forrester Research's report, The State Of The Cloud In The US, 2022, states that 64% of US infrastructure decision-makers at enterprises called out modernization as a top IT/operations priority over the next 12 months.
Modernizing your data stack means understanding the current data systems, how they are related to each other, and how they are related to business processes. Data lineage empowers data producers to understand the current state of data pipelines, giving your team the confidence to make timely decisions around data and its corresponding services that need to be migrated.
Then, once your data is in the cloud, you can leverage the knowledge graph to automate the enforcement of critical data governance policies and workflows, ensuring there is little-to-no interruption in data enablement.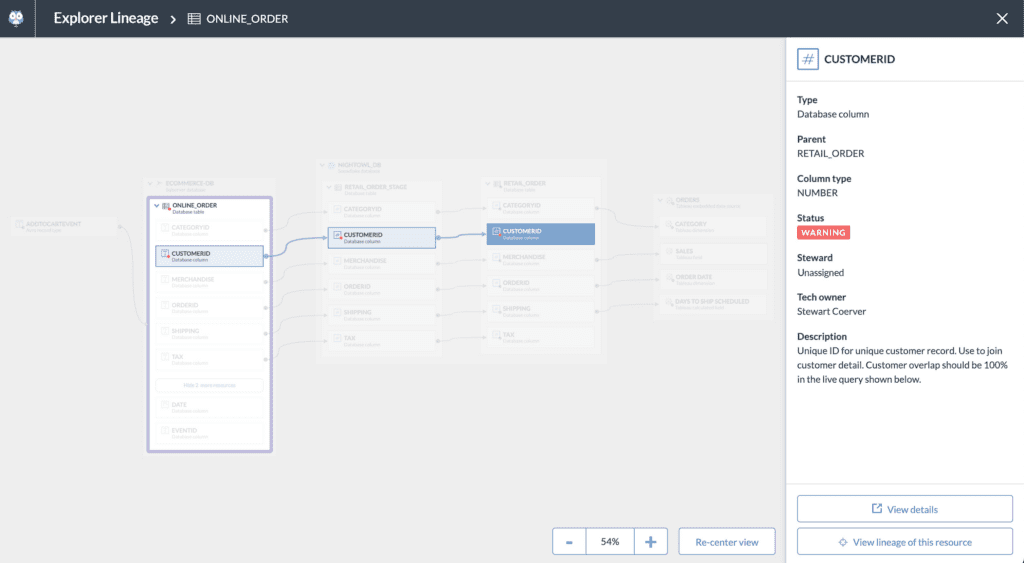 Explore More Using data.world with Eureka™
data.world with Eureka Explorer™ is a map of data and relationships powered by the knowledge graph that simplifies the analysis of relationships between data, people, and insights. It bridges the gap between semantic business concepts and column-level technical lineage of the modern data stack with easy-to-navigate graph visualizations.