The data.world team descended on Orlando's Walt Disney World Dolphin Resort last week for three data-filled days at the Gartner Data & Analytics Summit. We're back, and we're proud to say, data.world — and the best practice that metadata should be managed as a graph — was seemingly everywhere!

Learning from the experts at Gartner and connecting with so many industry luminaries was an incredible experience. We could go on and on about the great people we met and the ideas and knowledge we shared, but there's simply too much to cover in its entirety. Instead, here are some of our highlights:
Our Favorite Gartner Presentations
One of our favorite presentations from the experts at Gartner was the opening keynote, "Unleash Innovation, Transform Uncertainty," presented by Gareth Herschel and Debra Logan, both of Gartner. The pair explored the future of data and analytics, noting that data by itself isn't the magic bullet for better decision making. To maximize data value, they explained, you need to ensure you're delivering the right data to the right people at the right time.
Later, gartner's Carlie Idoine and Ted Friedman identified the "Top Trends in Data and Analytics for 2022," which included that it's now requisite for organizations to build their teams' data literacy by fostering, "broader data literacy and digital learning, rather than simply delivering core platforms, datasets and tools," an idea with which we heartily agree, and is entrenched in the theme of our upcoming summit, "People + Data".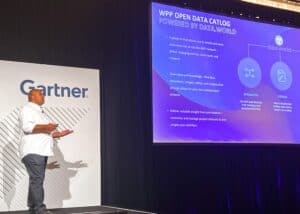 We also enjoyed Distinguished VP Analyst Donald Feinberg's presentation, "Database Management Systems - Accelerate to the Cloud," in which he confirmed that cloud is the modern platform of choice because of its numerous benefits, including, "increased elasticity and scalability and more agile development capabilities."
But the Gartner presentation that really hit home for us was, "Metadata is the Key to Self-Learning, Augmented Data Governance," given by Gartner Distinguished VP Analyst Mark Beyer. In his talk, he explained why it's crucial that metadata should be managed in a graph, the exact message the team at data.world has been evangelizing for years!
data.world at Gartner D&A
In terms of what we got up to at the Summit, our fearless Director of Sales Engineering Stewart Coerver kicked us off with a dominant performance in the Demo Showcase Showdown, where he showcased data.world's incredible functionality to a crowd rapt with attention. This was quickly followed by VP of Customer Success Amy Niemann introducing Vip Parmar, Global Head of Data Management at WPP, a much-loved data.world customer… and last-week's guest on the Catalog and Cocktails podcast!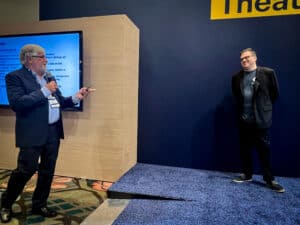 Vip shared his experience with a large audience, describing how, with data.world, WPP built a collaborative data storefront that caters to data producers and consumers across their diverse and global portfolio. As Vip said, "There are a lot of providers in this space. Where data.world really shone out was in virtualization and data integration."
Miguel Morgado, Product Owner at OneWeb — another favorite data.world customer — gave us numerous shout-outs on stage in his session with DataOps.live, "Satellite Provider OneWeb Goes Stellar in 6 Weeks With DataOps.live," emphasizing the importance of data.world to his company's success.
And last but not least, to close us out at Gartner D&A 2022, data.world VP of Product Tim Gasper and Principal Scientist Juan Sequeda sat down with Vip Parmar on the first episode of the fourth season of the Catalog and Cocktails podcast to talk about improving communication and collaboration between business and data teams within enterprise businesses.

All in all, not only did we have a great time at the Gartner Summit, we came away convinced that our data catalog is the best on the market for establishing data-driven enterprise cultures.