Interest in enterprise data catalog solutions is at an all-time high. As organizations roll out their digital transformation strategies, many run into major challenges with finding, managing, and creating insights from massive amounts of complex, scattered data assets.
It's clear that the promised land of bringing all the workloads and all the data into one data lake in the cloud was not realistic. In other words, your many heterogeneous databases and tools that live on-premises likely aren't going anywhere soon, even as your new workloads move to the cloud.
What is an augmented data catalog solution?
In light of this reality, Gartner released its latest research, Augmented Data Catalogs: Now an Enterprise Must-Have for Data and Analytics Leaders. It defines what an augmented data catalog is and how it can enable data-driven use cases that support business transformation. We're proud to be one of the companies highlighted in this report and want to reinforce a few key themes that should be central to your catalog strategy.
Enterprise data is getting more complex
First, traditional data catalogs and legacy metadata management solutions are not the right solutions for today's complex, big data, hybrid cloud IT landscape. That's why Gartner calls this new generation of catalogs "augmented." Augmented implies machine learning, semantic knowledge graph, and data access and integration working together to automate the discovery, organization, relationships, and curated and governed access to different datasets, analyses, and insights.
Catalogs must support the full scope of data and analytics work
Second, for an augmented data catalog to reduce time to insight and enhance productivity, Gartner notes it must cover the full gamut of (1) Discover, (2) Understand, Enrich & Trust, (3) Contribute & Govern, and (4) Consume. We believe this aligns really well with our methodology and comprehensive solution. Standard and legacy vendors focus almost exclusively on visibility and understanding, whereas data.world delivers access, curation, and impact as essential, tightly integrated catalog components.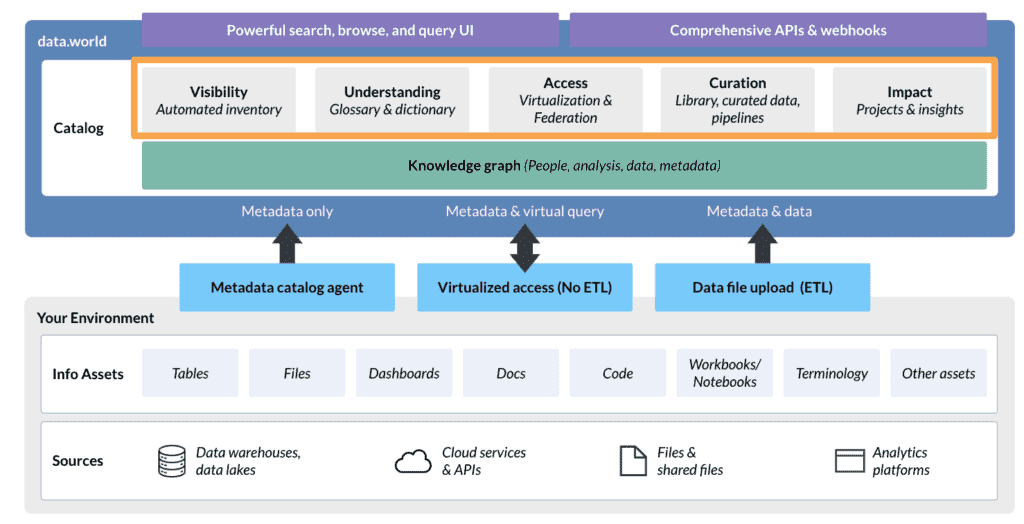 Beyond offering a comprehensive solution, data.world is the only cloud-native, stand-alone augmented data catalog built for hybrid cloud and heterogeneous data systems. Deploying as software as a Service (SaaS) allows data.world customers to receive the fastest time to value, zero upgrades and maintenance burden, and better performance, scalability, and reliability.
Semantic knowledge graphs are critical
Third, throughout the research, Gartner considers semantics and knowledge graph critical. Across search, recommendations, tags, relationships, business glossary, and even higher level data abstraction, being able to take disparate data, analysis, and documents, and organize them into a common business understanding requires taking a "graph-first" approach. All information should be equal and able to be related to each other in flexible, limitless ways – rich with context and meaning.
We believe that knowledge graph is the right future-proofed foundation not only for storing and enriching your cataloged assets but also as the most valuable, meaningful fuel for AI and ML automation and insight generation. Gartner notes a knowledge graph within the enterprise "grows and becomes more comprehensive as more metadata sources are ingested, and when business users enrich it with more context and semantics." Wouldn't you want a data catalog powered by a knowledge graph?
Enterprise data catalogs must deliver tangible business value
All of this is why the Associated Press was able to enable 300+ organizations to instantly gain access to vetted, story-rich data.
Mirum, a Visionary in Gartner's Magic Quadrant for Global Digital Marketing Agencies four years running (2016, 2017, 2018, 2019) was able to significantly speed up gathering, disseminating, analyzing, and delivering key data and insights back to clients.
And it's why Erin Defossé, Chief Product Officer of Aceable, said: "using data.world has saved us valuable BI analyst hours every week, and more importantly, we're saving a week or more of waiting time per project."
The right data catalog truly is a "must-have"
Big data, multi-cloud, and heterogeneous systems are here to stay, and finding the right data and quickly creating the right insights has only gotten harder. Augmented data catalogs are the right choice to help you find, understand, access, curate, and drive business impact from your data and analysis.
1Gartner "Augmented Data Catalogs: Now an Enterprise Must-Have for Data and Analytics Leaders," Ehtisham Zaidi & Guido de Simoni, Sept.12, 2019