It was amazing to see the data world's best and brightest come together again — in person and under the bright lights of Las Vegas — for Snowflake Summit 2022. From June 13-16, Snowflake's largest-ever global user conference welcomed nearly 9,000 in-person and over 11,500 virtual attendees to Sin City to meet, talk, and collaborate on innovation in the data cloud.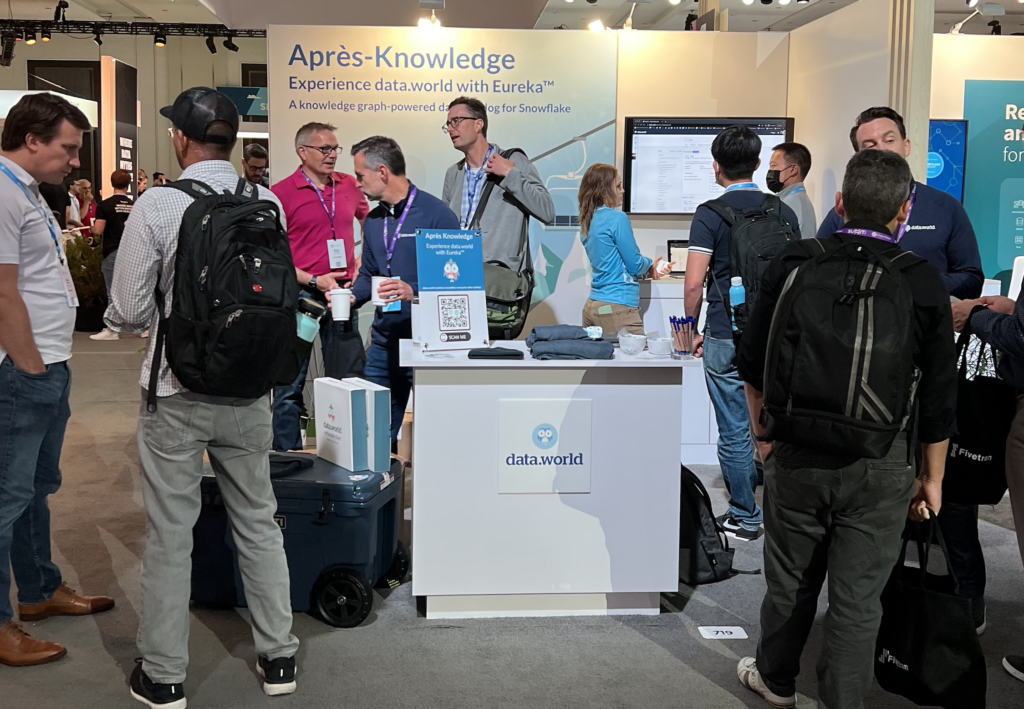 If you couldn't make it yourself, trust us — it was an incredible place to be.
With that much expertise and brainpower all in one place, discussions on the hottest topics in data engineering and data governance took place literally around the clock — thank you, Vegas — and by the end of the four-day event, a number of key themes emerged as the topics and issues most prevalent among data experts from around the world.
The data.world team returned from Snowflake Summit excited and energized — if a little bleary eyed — and ready to report on what was top of mind for many of the customers, partners, and technical experts in attendance.
Snowflake Summit Takeaways
Managing Budget -
Some topics are as old as business itself. Budget management was a frequent topic of discussion in the booths and ailes at Caesars Forum throughout the show. The consensus was, even as demand for data grows, we're now looking at a period of reduced budgeting for resources, personnel and data tooling. What does this mean for data pros? It means establishing priorities, improving efficiency, and demonstrating the business value you provide to your organization will be even more critical for the foreseeable future.
Data Mesh -
A major theme on the show floor was improving the distribution of business knowledge across the enterprise, and ensuring insights could be shared broadly to any stakeholders they might benefit. Of course, this meant a focus on the social-technical approach toward data governance Zhamak Dehghani coined "data mesh." data.world Chief Product Officer Jon Loyens spoke on this topic — and others — on SiliconANGLE's theCUBE on day four of the show.
Data as a Product -
A spin-off of the focus on data mesh, treating data as a product was another hot topic at the Snowflake Summit. Bringing this type of product thinking to data management as one of the four crucial pillars that supports a data mesh, enables domain owners — aka data product owners — to curate high-quality data assets that can be used and shared across your organization by business and technical users alike. Much of the Summit chatter was focused on sharing best practices and learnings about how to best equip data product managers for success.
Self Service / Data Democratization -
Another pillar of the data mesh architecture that was a major focus at Snowflake Summit — one for which treating data as a product is a prerequisite — was how to make data and knowledge easily and readily available via a self-service platform. Conversations about how to make data and analysis discovery quick and easy for all business stakeholders, and how to ensure business and data users are served with relevant insights, were heard on the Summit floor from the time the doors opened to the end of the business day. And in other parts of Vegas, they continued late into the night.
Cloud Native / Cloud Migration -
As a cloud-native data platform, it's not surprising that a Snowflake event would be buzzing about the importance of cloud-native data tooling, and the urgent need for on-prem systems to migrate to the cloud as soon as possible. Jon Loyens' recent post on Towards Data Science, "Doing a Cloud Migration? When Should You Add a Data Catalog and Governance?" details the best approach to migrating to a cloud-based modern data stack.