According to the World Economic Forum, the amount of data generated each day is expected to reach 463 exabytes globally by 2025. As the quantity and complexity of data increases exponentially, enterprises who collect it have a responsibility to maintain compliance with the latest data protection legislation and regulations. That means administering safeguards to your sensitive data to protect it from unauthorized use or disclosure.
Introducing data.world Sensitive Data Discovery
A key aspect of data compliance is knowing where sensitive data lives and applying classifications that relate to policies that inform business processes for proper tracking and management. Identifying sensitive data, applying these policies, and reporting on this information can be an extremely time consuming and error-prone task if attempted manually.
To make things easier, data.world is proud to announce Sensitive Data Discovery, a new platform functionality that automates discovery and classification, making it easier for enterprise customers to identify sensitive data and take action on it within the data catalog.
Key capabilities of Sensitive Data Discovery
Identify certain sensitive data types like email addresses, names, and protected health information (PHI) using advanced machine learning that scans the data catalog
Maintain the integrity and confidentiality of data with classification, tags, and statuses such as Restricted, Personal Information, US Only, etc.
Drive better governance and compliance by reporting on and auditing sensitive data types and policy classifications across the data landscape
Deliver greater governance capabilities by integrating the broader ecosystem of additional data scanning and compliance tools into data.world's open and extensible platform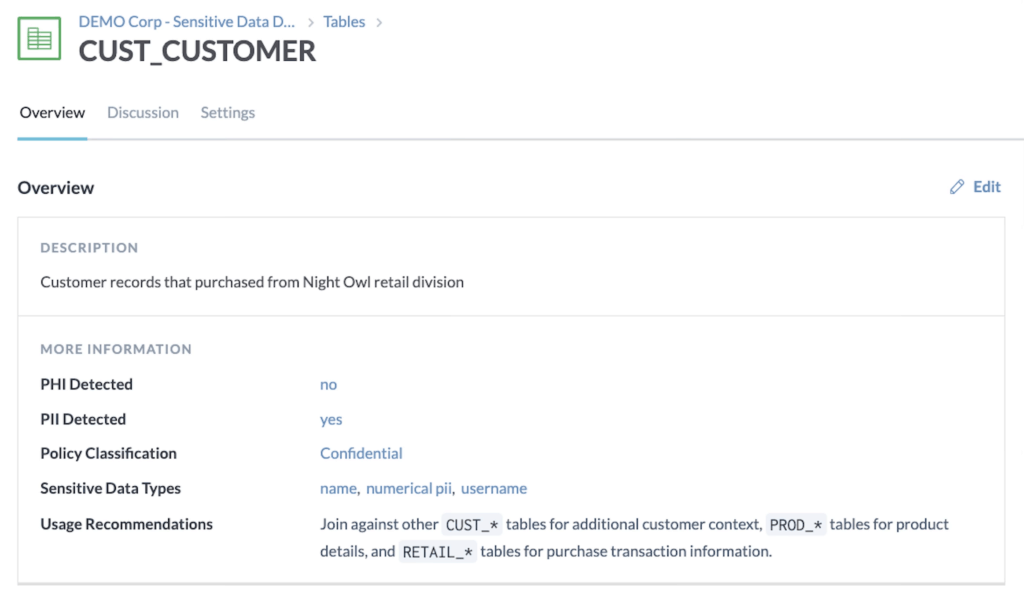 The cost of data non-compliance
Not protecting your sensitive data can be costly. Fines range from thousands to millions of dollars on a per violation basis under regulations targeting different industries like healthcare and financial as well as the individuals whose data is at issue and where they reside. Regulations like the California Consumer Privacy Act (CCPA) and its new incarnation, the California Privacy Rights Act (CPRA), as well as many other state privacy regulations, the EU's General Data Protection Regulations (GDPR), the new China Personal Information Protection Law and others apply to companies outside those states' and countries' borders and carry significant penalties.
Add agility to your data governance processes
As you've read, not complying with data protection regulations can have a significant impact on your bottom line – and we didn't even cover the costs of mitigation, remediation, investigations, litigation, and the collateral damage to your reputation. (IBM covers this in depth in their Cost of a Data Breach Report 2021.)
One way to minimize the risk of data privacy non-compliance is by practicing Agile Data Governance and centralizing all of your data and metadata in a data catalog that automates many of the tasks associated with sensitive data discovery. Not only can this help your business avoid crippling fines, it also improves collaboration between data producers and consumers by enabling the safe sharing of data assets.
If you'd like to learn more about the benefits of Agile Data Governance and how it can help you better manage and provision access to data, download our white paper.