data.world CEO and Co-Founder Brett Hurt is sharing his thoughts on the theme of "People + Data" on a weekly basis in advance of our September 22 data.world fall summit.
As we discussed in last week's post, Learning the Lessons of Data Analytics in the Dot-Com Bust 'Classroom, I've had a long career in data and analytics, from a conceptual introduction as a child, to the walks across hot coals that were the dot-com bust at Coremetrics and later the Great Recession at Bazaarvoice. While there's satisfaction in pioneering new techniques at any time, doing so in such moments of great challenge is when you create history. And once again, we find ourselves in history-making times.
So let's fast forward from my Coremetrics' years to my co-founding Bazaarvoice in 2005, an era when booming eCommerce was really taking on the contours we're now so familiar with. Amazon.com had survived and was now thriving. Overall, eCommerce was growing at 25% and reached $109 billion that year. Everyone began to want in on the action, from traditional retailers like Walmart and others going online to try and keep up with the future that Amazon was defining, to brands endeavoring to figure out how to leverage their own websites to establish a direct relationship with customers.
But then the Great Recession hit and it was panic time all over again. It was the moment when we all learned about the so-called "derivatives" captured in Michael Lewis' famous book (and later film) The Big Short. It looked like the exotic and fast-evaporating mortgage-backed security instruments could tank our entire economy, and the investment banking giant Lehman Brothers was the first to fall in 2008. As the nation's GDP fell by more than 4 percent, we implemented a six-month hiring freeze at Bazaarvoice, as we just didn't know how bad it would get.
Was this Great Recession going to lead to another Great Depression?
Pioneering Data and Analytics
We quickly overcame our fears and got to work. One of our customers that became a true data and analytics pioneer during this period was the iconic company 3M, perhaps most famous for inventing the Post-it® Note. 3M today has over 60,000 products and 30 distinct brands.
One of the most effective aspects of Bazaarvoice's business model was – and is – that branded websites, like Post-it.com, could collect a lot of customer reviews via our social commerce platform. For example, this Post-it® Note's "Supernova Neon" product has a 4.9-star rating and 432 reviews there as of this writing. These authentic customer reviews could then be syndicated to retailer websites like Walmart.com, OfficeDepot.com, Staples.com, and others to drive channel sales, leading to a great ROI (return on investment).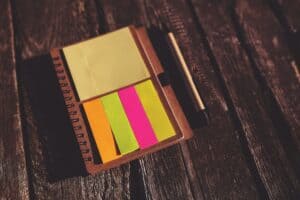 But there was much more to these reviews. There was analytical gold buried within them. 3M began to realize that this content was more authentic and actionable than even the results of highly paid consumer focus groups. The emerging online culture of customers writing reviews was all in an effort to help each other; as a result they were very direct, candid, and open. For example, a 4-star review from a customer often included content like, "I would have given this Post-it Note a 5-star review if only they made it in this color."
Through data engineering and analytics — again, I really wish we had a data catalog back then — 3M started to harvest this content. Among the insights was a clamoring among customers for eco-friendly products. Realizing the opportunity in the launch of a whole new eco-friendly line of products, 3M did exactly that. The sales results were fantastic.
That success led to then-CEO George W. Buckley inviting me to speak at his annual leadership conference. There were hundreds of senior leaders from throughout 3M in the room. I spoke about how they should be analyzing this authentic customer content for all of their products. They listened intently, and our dialogue continued in many ways. As a result, 3M evolved to become an even more customer-focused company.
The Data Gold Mine
Keynoting a 3M leadership conference was more than just an honor. It was euphoric even, as the Co-founder and CEO of Bazaarvoice I was to witness in the reverberations how my math and analytics background was once again paying off, and this time changing the culture of one of America's most well-known companies. Even though 3M's stock hit a rough patch at the beginning of 2009 — whose stock didn't? — they hit a new high by the beginning of 2011. Today they have a market capitalization of $73.56 billion.
3M wasn't alone in developing these pioneering data and analytics techniques during the Great Recession. Bazaarvoice customers like P&G, L'Oreal, Estee Lauder, and many others all tuned into the authentic voice of their customers using our platform, sharing that data internally to many departments.
The CEO of The Home Depot asked me to speak before the annual vendor's meeting in front of the CEOs of the top brands that they carried in their stores and online. The head of their merchandising group also asked me to speak in front of over a thousand of their merchandising managers at his annual meeting. They both wanted all of their brands to use Bazaarvoice to innovate and come up with new products that The Home Depot could carry. It was a data gold mine, just waiting for a team with digital picks and shovels.
To say that data and analytics can transform your entire company is an understatement. Witnessing the way 3M transformed is an experience I'll never forget, and it would have been made all the much easier with today's data platform technologies, including our data catalog here at data.world.
But it's not just a case of applying technology. As my colleague and Co-founder Jon Loyens often remarks, it's a "socio-technical transformation" of winning hearts and minds as well.
Next week I'll cover how you create that transformation by embracing the concept of a data mesh in your company. Until then… have you registered for our fifth summit on September 22 yet? Our theme is People + Data, and this story about 3M during the Great Recession is a terrific example of the best of that.