When you're the lone SaaS vendor in a world of legacy data catalogs, it can at times be difficult to demonstrate innovation. Continuously rolling out updates, enhancements, and fixes via the cloud means you don't get your time in the spotlight with a monumental product announcement that took 12-18 months to bring to market.
That pride our competitors feel shipping version 5.7.1 and ensuring customers have their upgrade and maintenance windows scheduled. We don't get that.
No migrations. No upgrades. Just continuous improvement.
But don't feel bad for us. We're not trying to play catch up with the on-premises players or the "if I squint, it sort of looks like cloud" catalogs.
We're trying to create separation. After all, we already have the highest-rated offering in the machine learning data catalog space.
"We are relentlessly focused on customers"
This is super easy to say. That's why every company says it. But consider the vendors in your data ecosystem today. Does your voice truly shape their product? Can their solutions evolve and improve to meet your business needs today… or do you need to wait 9-12 months at a minimum?
At data.world intent of innovation is even more important than pace. Our platform gets better with every client conversation. In addition to our frequent touchpoints, we learn a lot from our customers' user habits. We are constantly performing user interviews, A/B testing, and measuring tens of thousands of events throughout the platform -- so we know which features are straightforward and which leave folks scratching their heads. We know what our users like, and we learn what they need. That's how we innovate.
And the improvements happen not in quarters, months, or even weeks. Often we release updates multiple times a day. No other enterprise data catalog can make that claim.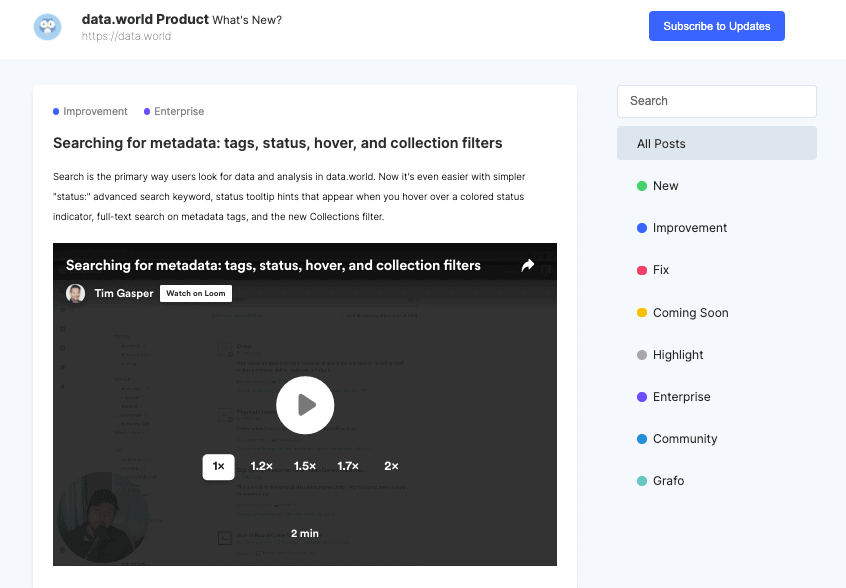 So what's new on data.world?
Because we can't, nor would we want to, issue 1,000+ product announcement press releases a year, we are taking a different approach. Something our customers want to see and our data catalog competitors are not built to deliver.
We recently launched whatsnew.data.world, our platform changelog. This is our showcase for agile continuous product innovation, integration, and deployment. Here you'll find notable updates and things to try, along with a library of demo videos. You can search for recent fixes, improvements, capabilities coming soon, and more. And we update the changelog frequently, so we suggest you subscribe and bookmark the site.
Whether you're an enterprise customer or a member of the world's largest open data community, there's something in here for you. And in keeping with our ethos of being agile and open, we encourage you to let us know how we're doing. Give us your honest feedback and we'll keep working hard to make your experience even better.