One reason we focus on making it easy to share data is the disproportional nature of the benefits — one person taking a few minutes to publish a single dataset can help a lot of people save hours of searching and cleaning; it can help data.world community members solve a range of problems, and so on. (If you have not tried sharing data yet, give it a try.)
How about keeping datasets up-to-date?
We recognize that continuously updating datasets could be easier and have been investing in solutions for different types of community members.
You can already…
Starting today, you can also use IFTTT and data.world together to boost your productivity.
IFTTT (if this, then that) helps your apps and devices work in new ways. People use it to automate tasks, connect disparate services, and create unexpected mash-ups of apps they already use. Plus, it's free and easy. Here are just a few of the use cases for connecting data.world and IFTTT.
Liberate data files from inbox obscurity
Too many people still share files via email. When data stays in your inbox it's harder to access, entirely unusable, and quickly lost.
Now you can get that data from Gmail into data.world without switching back and forth between apps.
After you enable the Gmail applet, simply forward those attachments to yourself, adding #data.world in the subject line. IFTTT will automatically add them to the dataset or data project of your choice.
Connect Dropbox and Google Drive
File storage services are invaluable productivity and collaboration tools, and there's a good chance you're currently storing some data this way.
What if you could automatically upload files added to a Dropbox or Google Drive folder to data.world? With data.world+IFTTT you can.
After you enable the Dropbox, Google Drive or Google Sheets applet, IFTTT will automatically detect new files added to a specified folder and upload them to your chosen dataset or data project.
Regularly refresh your data
Some services like Dropbox or Google Drive will trigger actions only when you create a new file, but not for subsequent updates to the same file.
Now you can automatically fetch the latest version of any file added from URL on a regular basis.
After you enable the Date & Time applet, IFTTT will sync a dataset or data project of your choice daily and at a specified time.
Need to sync multiple datasets? Not a problem. You can create as many new applets as you need using the Date & Time and data.world services together.
Track the weather (and much more)
Weather forecasts, stock prices, social media posts, physical activity metrics, and home automation stats are all examples of time series data, i.e., a series of data records collected over time, often in regular intervals.
IFTTT is rich with services that can produce data like that and they can be extremely useful for your analyses and data projects. Want to track Bitcoin prices or weather conditions? Have at it!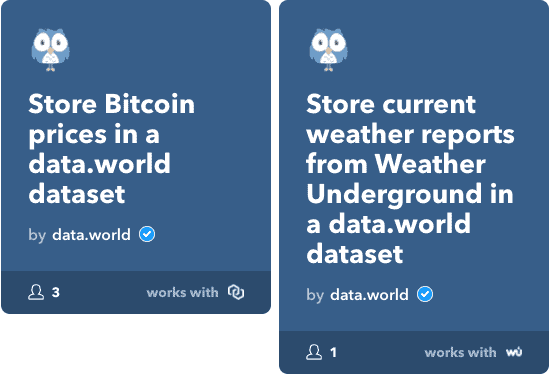 After you enable the Chain (Bitcoin) and Weather Underground applets, IFTTT will append Bitcoin prices and weather reports, respectively, to streams in a dataset or data project of your choice — daily and at a specified time.
Choose your own adventure
There are endless interesting possibilities you can create with data.world+IFTTT.
Get inspired by what others are creating by browsing the IFTTT tag on data.world, then add that tag to your own IFTTT+data.world creations!
Check out many more data.world applets on IFTTT and explore all the services that can be used in combination with data.world actions.
Finally, enable the following applet to get notified every time a new data.world applet is published.
Want to make your data projects easier/faster/better? Streamline your data teamwork with our Modern Data Project Checklist!