We held the spring 2022 data.world summit the first week in April, where data.world experts and a number of our partners and customers discussed all things data mesh, open data, knowledge-first cultures, and much, much more. Along with main-stage presentations like "Disrupting Data Governance," from Moxy Analytics CEO Laura Madsen, we hosted a number of sessions focused on three breakout talk tracks:
Knowledge First - A track for data leaders who know change is needed and want to make the leap from data-driven to knowledge first.
Practitioner's Paradise - A more technical discussion for practitioners seeking expert advice on data strategy and catalog implementation.
Open Data For the Win - A showcase for the transformative power of open data in society, public projects, journalism, and the enterprise.
Here, we're recapping the Practitioner's Paradise track.
Business Transformation Empowered by Data at Okta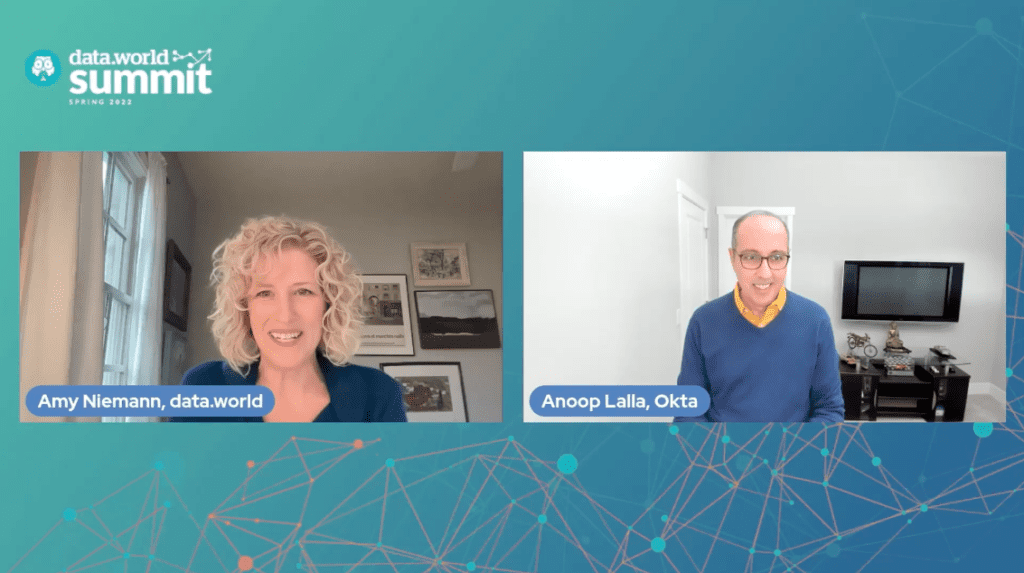 Amy Neimann, VP of Customer Success at data.world, and Anoop Lalla, VP of Data and Insights at Okta, kicked off our Practitioners Track by chatting about the power of data to transform a business, data-driven cultures, and data strategy in their session, "Business Transformation Empowered by Data at Okta."
"We see a business question behind every data challenge and a person behind every request," said Anoop in answer to a question about how Okta designed their data and insights organization and approached their data strategy. "We strongly believe that governance should increase trust, transparency, understanding, speed, and inclusion. And we know that data cultures have more to do with user experiences than just user requirements. With the focus on data we have at Okta, we've uncovered deep insights into our product utilization, gaps in our processes, and much more."
Anoop then explained how Okta uses data.world's knowledge-graph-powered data catalog to make data broadly and easily available throughout the business.
"Organizations make a lot of investments in data infrastructure, and data warehouses, and BI, and advanced analytics, and data quality, and predictive modeling, and data science…. And while they continue to make these investments, as they grow and scale, data and analytics get siloed, right? A catalog helps you get from silos to synergies by making data transparent in the enterprise."
"Over the last few years, [data catalogs] have evolved from a tool for just finding data sets in the enterprise to a critical component for data governance and an absolute necessity for any organization," summarized Anoop. "To me, a data catalog is a catalyst to go from silos with data to synergies across the enterprise."
Solution Architect: Tips and Tricks. Lessons Learned
data.world Solutions Architect Kurt Fagerburg shared two invaluable pieces of advice for anyone working with end users in the setup of your organization's data catalog.
"It's one thing for us as data professionals to think about how people may be consuming the data, how they might want to see it, or how they may want to use it," explained Kurt. "It's another thing altogether for us to bring those people directly into the conversation and make sure that what we're putting together for them is actually going to meet their needs."

"The whole reason you're getting data.world is because you want to create value for your end users out of it. But it's really hard to unlock that value if we're not involving the people who need that value directly in the conversation up front."

Kurt's second tip was on how to avoid overwhelming end users with data they may not need or want, As he said, "less is more."
"This goes back to the first point of involving end users: It's tempting to overwhelm the end user with all the possible data points they could possibly consume. But it's important for us to take the approach that there are some pieces of information that won't add value for specific end users. And because the human eye can only pick up so much information, it's important not to overwhelm them with all the pieces of data that we want to throw at them instead."

"Make sure that the metadata fields that display within your catalog are the ones that actually add value. And if you can't decide whether a field adds value or not, then throw it out."
Tactical Approach to Data Literacy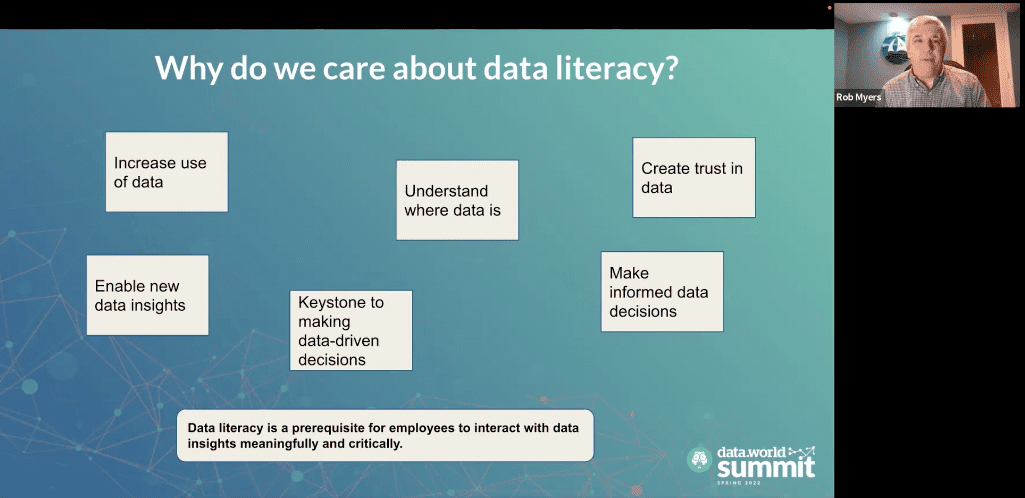 In his presentation, "Tactical Approach to Data Literacy," Rob Myers, Solutions Architect at data.world, spoke about how data.world helps to empower all of your employees to understand, read, and know what data means, and to be able to communicate it in an effective manner. Rob focused on how to use data.world's tools to create a data literacy program within your organization.
By helping your employees to become data literate, said Rob, they're able to "use data in a very proficient manner, as an asset in their organization. It empowers everybody to be a knowledge employee; not just a data worker, but a knowledge employee that uses data and the knowledge and understanding of data to make effective decisions in their day to data activities."
Achieve Successful Data Catalog Adoption with a Persona-Driven Approach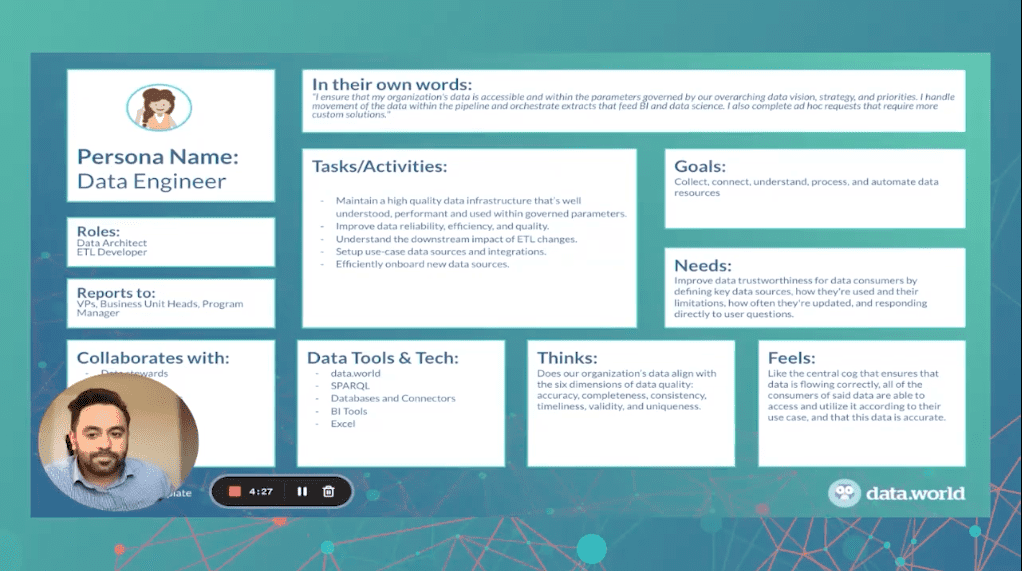 In the final session of our Practitioner's Paradise Track, data.world VP of Customer Success Amy Niemann and a team of data.world customer success directors explained why we think personas are key for driving successful adoption in data strategy initiatives. They also chatted about:
How data.world approaches developing personas
Some of our best practices and lessons learned as we develop personas
How you gain buy-in as you're creating them
Examples of personas you might create for a data catalog
"We believe that developing personas really ensures focus is placed on all the users of the data catalog," said Amy. "Whether it's somebody producing the data or somebody consuming that data, by seeking to understand the user as a person, you can help them along their data journey, create a better experience, foster greater adoption, and really generate more value out of your data catalog."
Amy explained that, among other benefits, by establishing a strong foundation of varied personas, your business can onboard users faster and more efficiently, maximizing the value they get from the data catalog.
In case you missed it…
Missed the data.world spring summit? No sweat! You can watch every session on demand.