This is Part 2 in a series about Collective Data Empowerment. If you want to get the whole series and accompanying tools in an ebook, go here.
The world looks different from an airplane window. You notice things you can't see from the ground: the way power lines cut across remote terrain, how rivers intersect and shape communities, the tidy grids that characterize newer cities. Features become patterns. People are invisible from 33,000 feet.
Data helps you soar above the limitations of subjective experience. Up here, you see farther. You spot connections and anomalies among millions of rows. Data is altitude. Altitude gives you room to observe the trends, to measure the effects, and to explain the spikes. Data makes sense of the world through abstraction. The people it represents disappear into aggregations and averages. Have you ever met a statistically average family of 3.14 people? Neither have we.
When companies win, when companies fail, people feel it. Profit, productivity, shareholder value, EBITDA, and every other 33,000-foot metric only matters because it affects people. The same is true of data-driven culture.
Achieving data-driven culture can be the difference between hiring amazing people and laying them off, between earning loyal customers and losing them forever, between getting the best from people and burning them out, between teams that collaborate and teams that clash.
For Chief Data Officers and their allies, it's a career-defining moment.
This is your chance to grab the controls and rocket your company and career to new heights. There's no return capsule. This is it.
Will it be easy? Not exactly. But it's much easier than surviving in a graveyard of failed data initiatives, bad decisions, and small thinking.
Fear, uncertainty, and doubt
The data leader is no stranger to fear and failure. Only 50% of Chief Data Officers hired by 2019 will succeed. Seventy-nine percent of C-level execs fear disruption and displacement. That number was 47% in 2017.
These execs think the greatest data threats have more to do with performance (54%) than risk (46%).
According to Gartner analyst Nick Heudecker, 85% of Big Data projects fail. The most common causes are poor integration with business processes and apps, management resistance, internal politics, skills shortages, and security and governance challenges.
[embed]https://twitter.com/nheudecker/status/928720268662530048[/embed]
While 99% of C-level execs say their company wants to build a data-driven culture, two thirds feel it's too early to know if they will get there. Fifty-six percent of CEOs have doubts about the data that feeds their decisions.
Hope and opportunity
With FUD like that, the upside better be irresistible — and it is. Data-driven cultures experience several major financial benefits, including a 20%-30% EBITDA improvement over peers and 15% growth in revenue and operating margin.
In 2006, only 1 of the top-10 companies by market capitalization was data-driven. In 2017, data-driven companies took 60% of the list.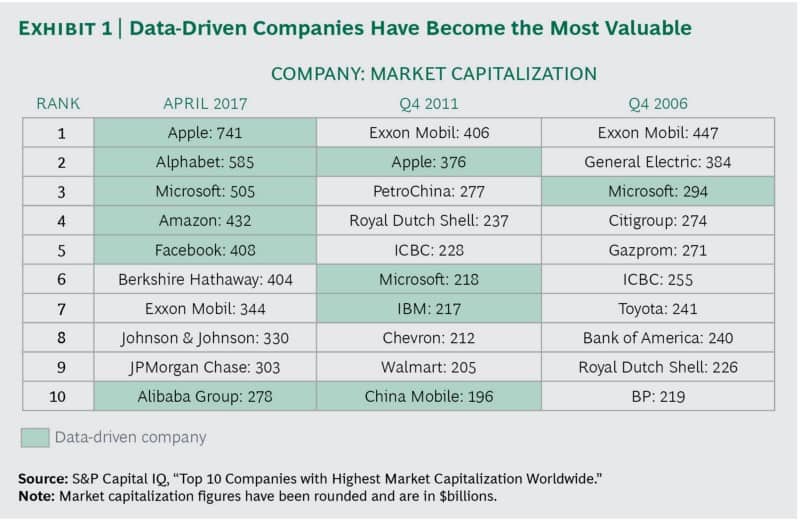 If you believe, as we do…
…that most companies are nowhere close to realizing more than a fraction of data's value, and…
…that your hidden data workforce holds more promise than any combination of elite talent and technology, and…
…that data-driven cultures need leaders like you, then…
…the opportunity is staggering.
Ready to get started? Get right to it and download the complete guide to building a data-driven culture through Collective Data Empowerment.

---
Check out the rest of the Collective Data Empowerment series!
(Editor's note: This post was updated on 9/19/2018 to add new resources and reflect the completion of the initial series of posts.)