Microsoft Excel is arguably the most widely used data tool in the world. Excel is simple, versatile and powerful, which makes it perfect for a wide variety of users. At data.world we recognize that, and want to create the most seamless experience for you to use your enterprise data catalog and Excel together.
"What does that mean?" you might ask, given that data.world already processes the Excel files you upload.
It means that we believe Excel users should be able to perform everyday tasks on data.world without leaving Excel at all. That's why we're pleased to announce the release of our data.world add-in for Excel.
Read on for an example of how to use the Excel add-in to streamline your data preparation work, and learn what else is on the horizon for future Excel add-in feature releases.
Excel for data preparation
This first version of the Excel add-in addresses the first of three key use cases that we have identified: data preparation.
When data is entered or updated manually, needs to be cleaned, formatted or transformed in simple ways, or filtered for broader consumption, Excel is often the perfect tool.
With the data.world add-in you can:
Link a workbook to a new or existing data.world dataset
Add data from sheets to datasets as files
Upload and update data with a simple click
The add-in gives you control over what parts (sheets and cells) of your Excel workbook get published. It allows you to keep data you may not want to share, like notes, work in progress, and sensitive information, in Excel and out of data.world.
In addition, with OneDrive, you can collaborate with other Excel users and team up to create the most perfect datasets!
Getting Started
You can install the data.world add-in for Excel directly from AppSource. It works with Excel Desktop (Windows and Mac) and Excel Online.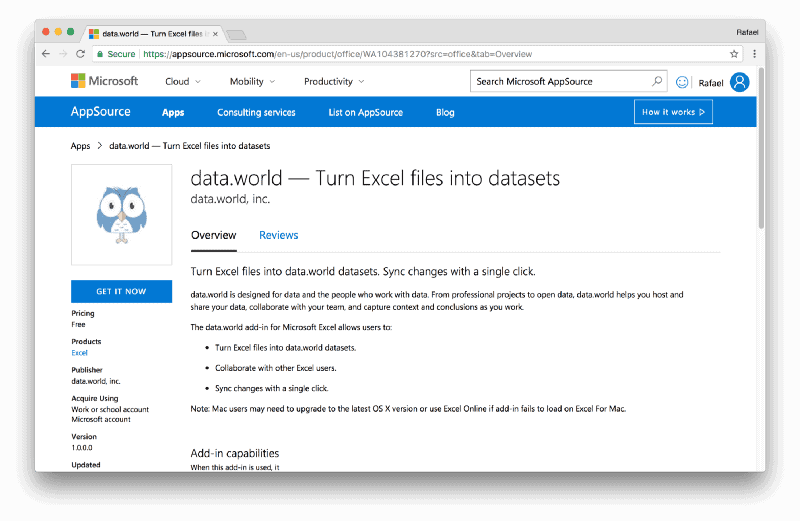 Once installed, add the add-in to a workbook via Insert → My Add-ins. At that point, the add-in will be visible in the ribbon (toolbar) and should open on the right-hand side.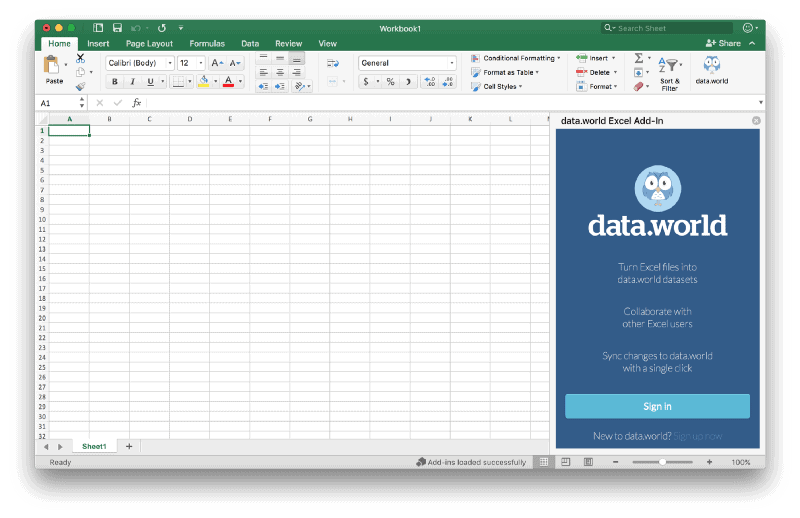 IMPORTANT: The following warning may appear upon installation or the very first time you use the add-in. To continue, make sure to press "Trust this add-in."

Linking to a dataset
After logging in and granting the add-in access to your data.world account, link one of your existing datasets or create a new one. At this point, the add-in will not make any changes to your dataset. This step sets the stage for you to start adding data from Excel to your chosen dataset.
In this example, you can see what that process looks like when linking the workbook to a new dataset in your data catalog: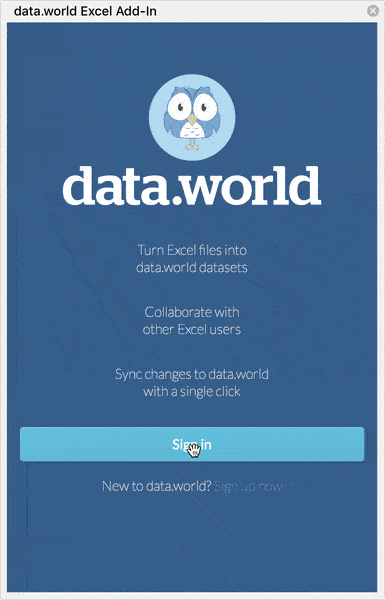 Adding and updating data
Once the workbook is connected to a dataset and your data is ready to be shared, press "Add data" to configure how it will be uploaded to data.world.
To configure, select an area and give it a name. The add-in will upload the data immediately and it will create a file with the given name.
The add-in will then start to track changes you make to the data in Excel. When any changes are detected, the add-in will indicate that so you can continue to save them to data.world as needed.
The example below shows what that looks like when creating two different files with data from two separate sheets and subsequently making changes to the data.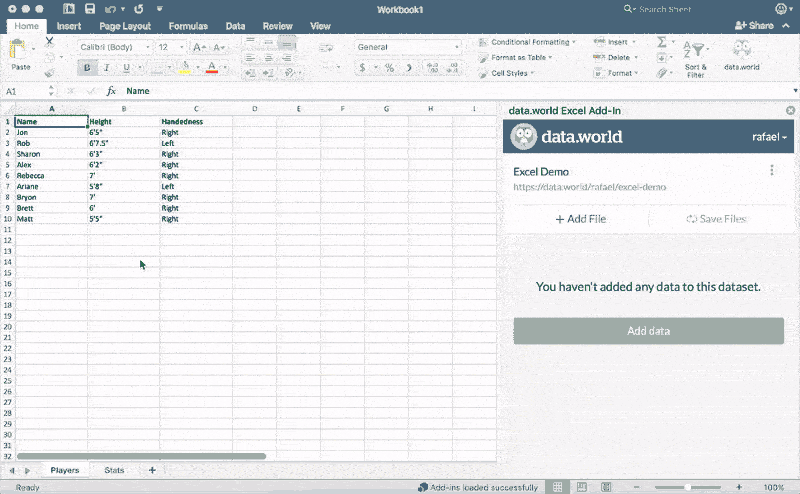 And below is what the same data looks like on data.world.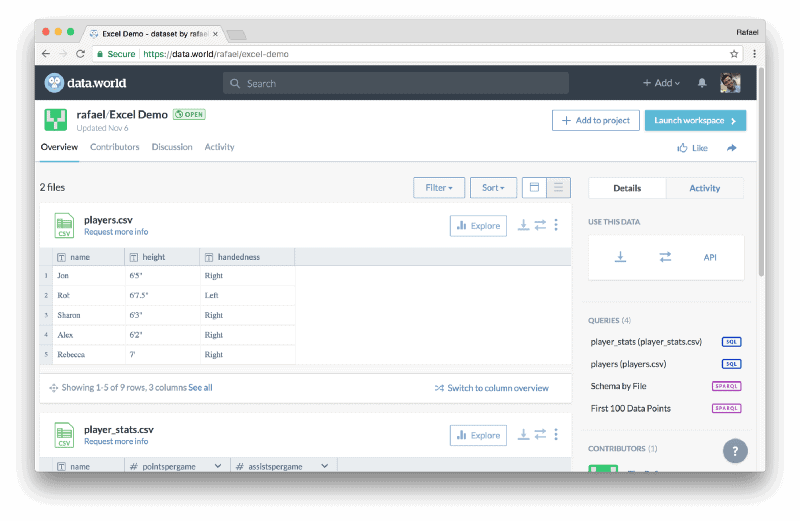 Excel for *
As mentioned, this version of the data.world add-in for Excel addresses one of three important use cases: data preparation.
The other two use cases to be addressed in the future are:
Data Analysis: Pulling data from data.world into workbooks for analysis.
Reporting: Publishing charts and all forms of insights back to data.world.
We intend to implement these additional features leveraging your feedback. If you like what we have built so far, let other users know on AppSource.
---
Our Excel add-in is an open-source project. Your suggestions and contributions are always welcome. Get in touch via GitHub, Slack or help@data.world.
Want to make your data projects easier/faster/better? Streamline your data teamwork with our Modern Data Project Checklist!